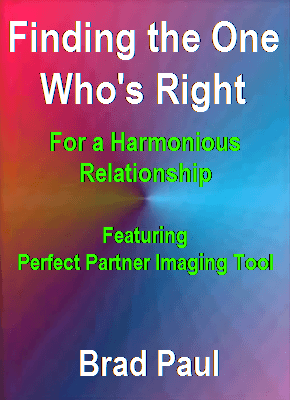 Once you complete this book, you will have a precise image of the right person for you and strategies for finding them and building a strong relationship.
Friends, family, and online dating services will try to tell you who they think would be a good match for you based on "their" criteria. This book provides a comprehensive, yet simple method for you to determine this for yourself.
Imagine how your life would be if you were sharing it with a highly compatible partner. Now, imagine it with someone whom you clash with on many important issues. You really only have three choices: (1) Take control of your destiny and find your ideal partner, (2) allow yourself to be molded into someone else's dream, or (3) leave it to fate — indefinitely. This book provides a guide for the first choice.
Regardless of where you search be it online, at clubs, or at dances this book will help you recognize, attract, and connect with the right person for you.
Mate Imaging™ (Perfect Partner Imaging Tool) is the process of precisely identifying the attributes, characteristics, and qualities you desire most in a partner. The instrument contained in the book that guides this activity includes every conceivable criterion that is involved in a relationship with a life partner.
Sixty criteria were identified and placed into a format that allows you to easily pinpoint the traits that correspond to your perfect partner and those you should avoid. The result is the creation of a clear mental image of your ideal partner.
Throughout the book, you will be provided with exciting information on how to utilize this powerful resource for finding your ideal partner. The philosophy behind how you will use mental imaging to connect with a highly compatible partner is based on renowned human performance principles, analytical methods, and just plain common sense.
This activity may sound complicated but it is not. The worksheet that holds the Mate Imaging instrument was designed to be simple yet efficient. What you will learn about yourself is an added benefit that you will recognize as you're doing it.
You will find that it all feels very familiar and natural to you as you apply these techniques to find the one who's right for you!
The text in this book is concise, which is intentional. This allows you to devote most of your time and energy to the perfect partner imaging process. This is the foundation for reaching your goal.
Brad Paul
Finding the One Who's Right (FTOWR)
Easy one-step buy process
Instant delivery eBook
More Information
Online Dating & Matchmaking
If you are using or considering an online dating or matchmaking service, you will find that this book, and particularly the Mate Imaging™ process featured inside, will enable you to easily recognize an outstanding service, an outstanding match, and an outstanding potential partner–once you meet. And meeting them is the true test of actual compatibility!
Although a computer can select a match based on established criteria, the guidance mechanisms provided by your intuition or gut instincts, and that thing called "chemistry," cannot be programmed. This is where the tremendous value of the Mate Imaging process comes into play. It creates a precise image of the right person for you and implants it in your subconscious mind, which in turn shapes your intuition (or gut instincts) and sense of chemistry, which in turn guides you to the correct choice every step of the way.
The other exercises and information in the book will prepare you to succeed in building a strong relationship should you meet someone using an online service.
Description
This concise book describes how to use renowned principles of human performance to find a highly compatible partner. It features an interactive exercise that leads to the formation of a profile of your perfect mate called: Mate Imaging™. An instrument whose likeness does not exist in any other book guides this process. This cutting-edge approach guides you toward the discovery of a person who synchronizes with you, supports you, and inspires you!
This book shows you how to…
Create a precise description of your perfect partner.
Implement the secrets that will draw you together.
Apply the principles of great achievers to this quest.
Neutralize rejection so that it never holds you back.
Establish an unrelenting motivation to reach your goal.
Identify the best situation for finding them.
Use dating rituals and techniques to succeed.
Table of Contents
Chapter 1 Looking for a Better Way
Chapter 2 Creating Relentless Motivation
Chapter 3 Preparing for the Journey
Chapter 4 Identifying Your Target
Chapter 5 Surveying Your World
Chapter 6 Mastering Dating Rituals & Techniques
Chapter 7 Discarding the Myths & Fears & Going for It
Chapter 8 Applying the Principles of Great Achievers
Chapter 9 Discovering Life's Greatest Treasure: Love
Chapter 10 Putting it all Together
Appendix A Self-Evaluation Worksheet (EXAMPLE)
Appendix B Self-Evaluation Worksheet
Appendix C Mate Imaging System (EXAMPLE)
Appendix D Mate Imaging System
Appendix E Date Targeting Worksheet (EXAMPLE)
Appendix F Date Targeting Worksheet
Appendix G Date Record & Evaluation (INSTRUCTIONS)
Appendix H Date Record & Evaluation (EXAMPLE)
Appendix I Date Record & Evaluation (DRE)
Appendix J Goal Setting Worksheet (EXAMPLE)
Appendix K Goal Setting Worksheet
Author
Inspiration
I investigated every source I could think of to find the right person for me. I visited all the well-known singles organizations and dating services, and countless non-profit singles clubs. Never did I come close to connecting with someone who I felt was a good match.
I looked at every book on the subject that I could find but was overwhelmed by the lengthy text and the lack of a comprehensive formula for achieving the stated objectives. I wanted an intelligent, concise book that provided clear-cut, hands-on tools for identifying and finding a perfect partner. Since such a book did not exist, I decided to write it myself.
Methodology
My research approach utilized the analytic methods I refined in the business environment and the field study techniques I mastered in college. My work included an examination of numerous university studies, a review of hundreds of books, visits to dozens of singles organizations, and interviews with countless single and married people.
The combined experience of all the above, along with the knowledge I acquired from years of studying personal development and relationship philosophies led to the creation of the ideas presented in this book. The result is concepts based on established analytic techniques, proven human performance principles, and just plain common sense.