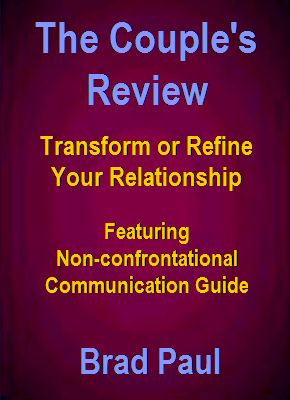 This concise book is a guide for transforming or refining your relationship without confrontation. This is accomplished with a unique written communication system that enables unrestricted and thorough communication.
The problems for most when it comes to couple's communication are…
Fear of rocking the boat.
Fear of how the other person will react.
Lack of opportunity to talk without concerns.
Interruptions & diversions caused by immature behavior.
Restricted & incomplete communication due to all the above.
The Couple's Review removes these obstacles by acting as an intermediary. It does this by carefully guiding you through the following four (4) activities. The first three (3) are done privately and the last one is done together. The reasons for this will become clear as you read the short text.
Appraising your partner and relationship.
Determining your future aspirations.
Examining each other's appraisal and aspirations.
Meeting for enlightenment and resolution.
As you go through this couple's communication process and evaluate every aspect of your partner and relationship, your partner will gain a clear understanding of your concerns and needs. And you will learn the same things about your partner.
Completing and exchanging these instruments requires courage. But the information they render can give you many exciting opportunities for improving your relationship.
If you have a strong relationship, this process will give you the opportunity to refine it. If you have a problematic relationship, this process will give you the chance to improve it. If you have a sick relationship, this process will give you insights on whether you should end it or give it more time.
The goal of The Couple's Review is to give you a clear-cut way to have a totally honest and complete communication exchange that can lead to a more harmonious, fulfilling, and productive relationship.
The Couple's Review offers no miracle cures. And I am not a psychologist, psychiatrist, physician, or professor. However, I was very serious in my approach to this project. It took me many months of researching, writing, editing, designing, testing, and fine-tuning. The result is a step-by-step system I created based on established evaluation methods, communication techniques, human performance principles, and just plain common sense.
This book is equally useful whether you are married, engaged, going steady, or dating. It is also effective for verifying compatibility "before" marriage. The only prerequisites are courage, honesty, and unselfishness.
If you're tired of ignoring annoying problems or if you want to take your relationship to the next level, try the couple's communication system inside The Couple's Review.
Imagine how your relationship might be if you and your partner were able to clearly and calmly communicate all of your concerns, needs, and desires to each other. Now, imagine how it might be if you were both responding to the issues and solutions that you discovered during the process. This book provides a guide to accomplishing this outcome.
If you're not sure whether your partner will participate, doing it yourself will help you with whatever issue you are facing and may encourage them to join in later. If you wanted to further inspire your partner, you could give them your completed worksheets once you're done with the book. And since the book's emphasis is on the activities and not on reading long descriptions of psychological concepts, it's possible to finish it during a single afternoon or evening.
The text in this book is very concise, which is intentional. This allows you to devote most of your time and energy to the Partner-Relationship Appraisal process. This is where the magic can happen and where seeds of change can be planted.
Brad Paul
Includes two (2) copies. One for each partner.
The Couple's Review (TCR)
Easy one-step buy process
Instant delivery eBooks
2 copies
More Information
Description
This book features a unique, non-confrontational method for expressing concerns, discussing problems, and revealing desires. This innovative approach guides you through a process of evaluation, resolution, and enlightenment. This technique is equally useful whether you are married, engaged, going steady, or dating.
This book is a guide for you to…
Create a relationship that is more fulfilling and enriching.
Express your concerns in a unique, non-confrontational manner.
Bring back the love and passion that you once felt for your partner.
Evaluate the weaknesses and strengths of your partner and relationship.
Solve problems in your relationship and eliminate resentments.
Make changes that can dramatically improve your relationship.
Have your needs met and your dreams supported by your partner.
The Couple's Review™ system includes Partner-Relationship Appraisals & worksheets for both partners. This enables each partner to work on the activities described in the book independently. The reasons for this will become clear as you read it.
Partner-Relationship Appraisal
Everyone agrees that good communication is crucial to having a successful relationship. However, all too often, full disclosure of problems is not expressed and possible solutions are never even approached. The reasons for this are complex and varied. The Partner-Relationship Appraisal provides a simple, yet highly refined communication method that bypasses common obstacles. Here's how it works.
We have all had performance reviews at work. This review is designed to ensure effective evaluation of all topics relative to job performance. It identifies a person's strengths and weaknesses and gives suggestions for improvement. Its written format allows a careful selection of words by the reviewer so that a positive response is more likely. It encourages better future performance because it is a measurable record with prescheduled follow-up, which creates accountability– on both sides. The Partner-Relationship Appraisal works in a similar way. However, with the P-R Appraisal, both participants appraise each other, and the review of the results is done separately.
The P-R Appraisal includes every conceivable issue that is involved in a relationship. Twenty-eight (28) categories were identified and placed into a format that allows you to easily pinpoint and evaluate the deficiencies and strengths in your partner and relationship. The result is the creation of a comprehensive communication medium that represents your true thoughts and feelings. The exchange of this information sets up the opportunity for understanding, growth, and change.
The purpose of the P-R Appraisal is to create a non-confrontational forum to communicate concerns, ideas for improvement, and compliments. This information becomes the foundation for the other activities in the book that communicate, among other things, your needs and desires to your partner. The goal of the activities overall is to produce more harmony, fulfillment, and love in your relationship.
Couple's Retreat or Workshop
The Couple's Review guides you through a process that is like a couples' retreat or workshop. Unlike a typical one, however, the activities presented in the book are done in private and in the manner and setting of the couple's choosing. The intermediary design of the activities performs the role of a mediator by facilitating a non-confrontational, fair, and accurate communication exchange.
The book's emphasis is on the activities and not on reading long descriptions of psychological concepts. This makes it possible for you to do your own "private" couple's retreat or workshop over a weekend or several evenings.
If you really want to make it a special event, conduct the activity during a vacation or weekend getaway at a resort! Even going to a hotel near your home would be good. Go through the process during the first 1-3 days and then enjoy yourselves the rest of the time. Getting out of your normal routine and environment might create the conditions you need for a breakthrough!
The Couple's Review enables partners to freely share their thoughts on any topic without fear of confidentiality issues. It also allows a couple to preserve their loyalty to each other. Most importantly, it requires that only those who are the best qualified to solve their relationship issues are present — the couple themselves.
This might sound funny, but only you and your partner have been present every minute of your lives and relationship. Therefore, no one on earth is better qualified to develop ways to improve your relationship than the two of you. All the answers to every issue that you have personally and as a couple are within each of you. This book does not provide the answers. It only provides the tools for you to discover them yourselves.
Table of Contents
Chapter 1 Pointing the Way
Chapter 2 Understanding How It Works
Chapter 3 Appraising Your Partner & Relationship
Chapter 4 Interpreting the Results of the Appraisal
Chapter 5 Determining Your Future Aspirations
Chapter 6 Examining Each Other's Appraisal & Aspirations
Chapter 7 Utilizing Goal Setting to Resolve Problems
Chapter 8 Meeting for Enlightenment & Resolution
Chapter 9 Putting It All Together
Appendix A Ground Rules
Appendix B Partner-Relationship Appraisal (EXAMPLE)
Appendix C Partner-Relationship Appraisal
Appendix D Emotional Aspirations Worksheet (EXAMPLE)
Appendix E Emotional Aspirations Worksheet
Appendix F Material Aspirations Worksheet (EXAMPLE)
Appendix G Material Aspirations Worksheet
Appendix H Goal Setting Worksheet (EXAMPLE)
Appendix I Goal Setting Worksheet
Methodology
My research approach utilized the analytic methods I refined in the business environment and the field study techniques I mastered in college. My work included an examination of numerous university studies, a review of hundreds of books, visits to dozens of singles organizations, and interviews with countless single and married people.
The combined experience of all the above, along with the knowledge I acquired from years of studying personal development and relationship philosophies led to the creation of the ideas presented in this book. The result is concepts based on established analytic techniques, proven human performance principles, and just plain common sense.